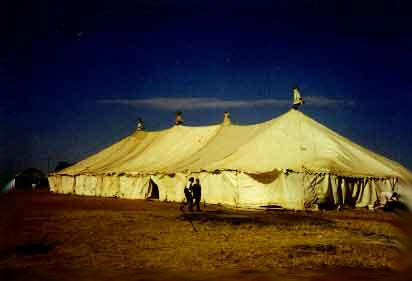 To The Membership Of Remnant Fellowship, led by Gwen Shamblin

We ask you to consider these important questions:
IS REMNANT PREACHING THE GOSPEL OF CHRIST OR ANOTHER GOSPEL ALTOGETHER (2 COR 11:5)?
"Remember that your outreach can be ministered through the basic Weigh Down Workshop seminars. It is God's evangelism for His Remnant of Believers. He is snatching people out of the fire and saving them from the flimsy whitewashed walls that have been built by the false prophets. Keep these outreaches going at all times."

Gwen Shamblin, Remnant Resource handbook, p. 8
HOW MUCH MORE "ABSOLUTE" MUST "ZION" BE BEFORE YOU'RE FINALLY ACCEPTED BY GOD?
"One of the main things we are encouraging this year (2004) is our newest seminar series for adults and children, called The Last EXODUS. It is the most powerful pieces of audio and video that we have laid down. God is moving in a powerful way to make sure you get the chance to get your heart right, to give your temple back over to Him, and to love God with all of your heart, all of your soul, all of your mind, and all of your strength. "

Gwen Shamblin, Remnant Fellowship website
WAS THE NEW TESTAMENT CHURCH FOUNDED BY THE LORD JESUS CHRIST ON TERROR AND FEAR?
"And for those that sing 'my God is an awesome God' and just think 'oh, you're cool, God," listen. Awesome - the root of that has got to be that you're – it's awful, that it's terrifying. And as we go through these terrifying, awesome, wonderful storms that God is sending through that can strike fear in anyone, you know, the lightning coming through the windows and the thunder and the sirens going off because of the scare. ... And, uh – so God has wrath. .. God gets angry at giving this much to us and then us giving so little back. Now what I wanted to say is that, obviously, Remnant was founded on that. .. "

Gwen Shamblin, 4.7.03 webcast
DO YOU TRUST IN THE HOLY SPIRIT'S GUIDANCE-- OR A REMNANT TAPE, BOOK, VIDEO OR MEETING?
"My name is Candace Anger and I am the product specialist here at Weigh Down because I love the products that Weigh Down has to offer. I have all of them at home, which keeps me focused totally on God Almighty and my relationship with Him. And I have been set free from ALL of my weight (60 lbs), from fear and praise of man, sadness, pride and much more."

Candace Anger, Remnant Fellowship testimonial
IF REMNANT IS JUST ABOUT LOVING PEOPLE, WHY DOES IT CONDEMN ALL THOSE OUTSIDE IT?
"The world is owned by Satan. Oh, yes, it looks good out there. It's full of teachers and doctors and churchgoers. And yet, the first thing you need to know is that that world is full of your enemies, enemies to you, enemies to God, enemies to this new system, enemies to this spiritual world. And they live to get rid of you. .. They live in a system that's based on Satan who has no source of power and so will never be as strong or as alert or as coordinated as you are so you don't fear 'em. .. All other beings smell of death."

Gwen Shamblin, 5.14.03 webcast
Remnant Nation, your desire and zeal for God has been exploited for too long by your leaders. The Abundant Life of Jesus Christ has been reduced by Gwen Shamblin into a driven existence of proving one's freedom from idols. What she claims is God's "grace" is a never ending treadmill of religious work. And your faith in God has been twisted into the fear of men. In short, the love of power has smothered the power of love.

Is this what "mere Christianity" actually should be? Whose approval are you seeking?

Isn't it time to cross the valley of decision many of you are struggling with? Isn't it time to get an alternative perspective about Remnant itself so you can make a better informed decision about involvement with it?

You're invited to come together in dialogue with those who know where you are, what you are facing, and what the cost would be in squarely considering these questions. We aren't "the enemy." We aren't the "snakes" we're made out to be just because we've seen what life is like behind the "Zion Curtain." We are your mothers and your friends. We are your husbands and your children.

We love and care enough about you to risk arousing the anger and rejection Gwen has taught you to treat us with by calling on you to reconsider where you are now ..

We understand where you are. We want to help. You are not alone.

Join us by e-mail or the Tent Of Meeting. The Tent Of Meeting is a bulletin board where you can share your feelings or seek dialogue with those who care where you are. In Old Testament times, the Tent Of Meeting was a tent shrine erected daily by Israel in the wilderness places they had to pass through to the Promised Land as a place for the presence of God to dwell. Think of the Tent here as a habitation in the very real desert places you may be facing ahead, a place where the One True God is just as real.
Click here to join The Tent Of Meeting


An outreach of Spiritwatch Ministries